The Handout Wizard add-in for PowerPoint provides a wizard like interface which takes you thru the various options available to create the handout. The handout is created in a matter of few moments and can be further edited/formatted as desired since the output file is a presentation file.

Several layout options are available and if that doesn't fulfill your requirement then create your own layout! The tutorial takes you through the steps involved in creating your own layout.

You can learn about the features supported by the Handout Wizard and then download the trial copy which is fully functional. The Frequently Asked Questions page provides most answers and tips. If you have any further queries please do visit the support page.

Register Handout Wizard to receive the next two versions free. Bulk license discounts are available. Please click here for more information.

Academic/medical organizations can avail of a further 25% percent discount on already discount rates upon purchase of location wide licenses. Click here for more information.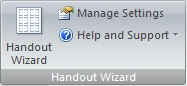 News: Download Handout Wizard version with full support for PowerPoint (32-bit/64-bit) versions.